Fishing
Big Timber Lodge is on the shores of the 3rd Crow Wing Lake with river access to 3 other lakes (1, 2 & 4) in the chain. The lake is located in southeastern Hubbard County, just eight miles east of the town of Hubbard. Third Crow Wing has a surface area of 647 acres and a maximum depth of 35 feet.
Not Just a Fisherman's Tale
The lower Crow Wing Chain (lakes #: 1,2,3 & 4) have been known for more than a century for the great fishing they offer. Unlike the upper end of the chain and a growing number of other Northwoods lakes, our lakes are so healthy that we have no slot limits or other limit restrictions on any fish species. Four lakes with more than 1800 acres of water and miles of shoreline mean no big water wind worries and plenty of river fishing as well.
Walleye
The Walleye is the most sought-after fish in Minnesota. Its thick, white fillets, handsome shape and coloring, and elusive nature make it the ultimate prize among anglers. Each year, anglers in Minnesota keep roughly 3.5 million walleyes totaling 4 million pounds. The walleye is named for its pearlescent eye, which is caused by a reflective layer of pigment, called the tapetum lucidum, that helps it see and feed at night or in murky waters. Walleye are plentiful in all four lakes of the lower Crow Wing Chain with Spring and Fall the best time to catch your limit. Our lakes are clear and food plentiful so fishing away from the boat with a leach or minnow, early or late in the day is most productive. Every other year the DNR uses our boat ramp to stock Walleye, last year with 1000lbs of fingerling and one and two year old fish.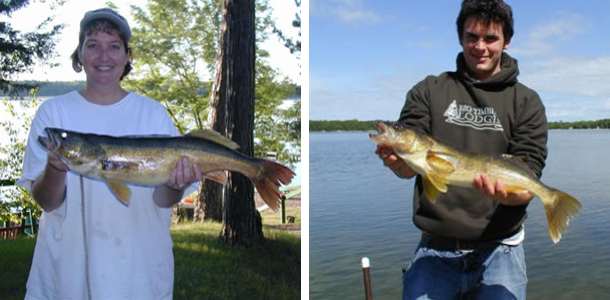 Large Mouth Bass
The Large Mouth Bass is one of the scrappiest fish that swims. An increasing number of anglers throughout the state are learning that largemouth bass, with their jolting strikes and wild airborne leaps, are an exciting fish to catch. And caught and cooked fresh out of the clean clear waters of the lower Crow Wing Chain they are very tasty as well. Four and five pounders are not uncommon is the 2nd and 3rd Crow Wing Lakes.

Northern Pike
The Northern Pike is a voracious predator that is one of the easiest fish to catch because it so willingly bites lures or bait. What's more, northerns produce chunky white fillets that many anglers say taste as good as walleyes. And we can teach you how to remove those pesky 'Y' bones. Most northerns run 2 to 3 pounds, though trophies over 20 pounds are caught each year. Last summer Big Timber Lodge guests caught and released more than a dozen fish over 40". The 4th Crow Wing lake is a relatively shallow, basin bottomed, weedy lake that many of our guests refer to as 'Northern Heaven'.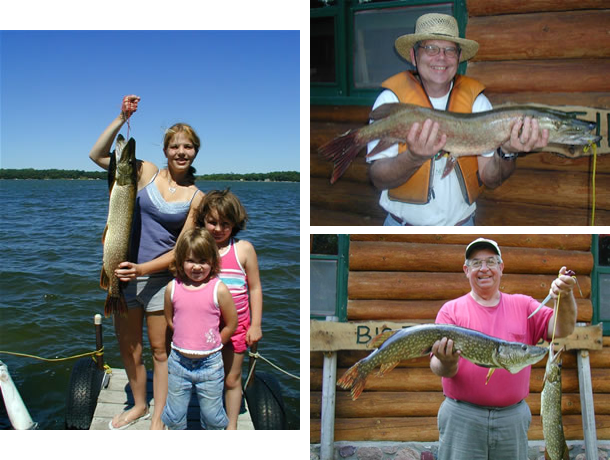 Crappies
Anglers love crappies. Crappies are caught all season long, on all four lakes, all times of day and night. Crappies bite readily and produce sweet-tasting fillets. There are actually two types of crappies: the black and the white. Both travel in schools and feed on small fish and aquatic insects. When you catch a crappie in one of our lakes, it's most likely a black crappie. The black crappie prefers deeper, cooler, clearer water than the white crappie does.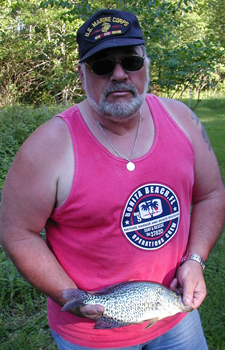 Sunfish
Minnesota has several sunfish species, but the most popular with anglers are the bluegill and the pumpkinseed. Both are found in all 4 lakes of the lower Crow Wing chain. Both spawn from late May well into the summer. The bluegill tends to grow larger than the pumpkinseed. Though both have a blue spot on the gill flap, the pumpkinseed also has some bright orange at the very edge of the flap. Also, bluegills tend to be mostly olive colored while pumpkinseeds are more orange colored. Many of our guests fish for these panfish exclusively and claim they make the very best fish fry. The littlest anglers have success right off our docks, but the 'keepers' are mostly in the weedbeds around the lake.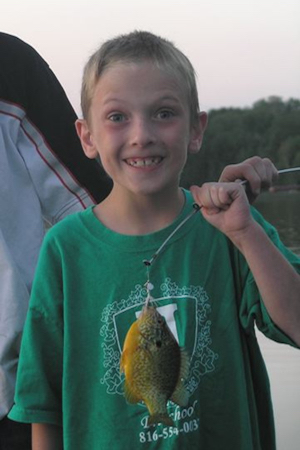 Fishing Resort Amenities
You can rent a fishing boat/motor, family pontoon boat or electronic fish finder at the lodge. We have bait buckets and tackle in the store. We're happy to share information on our latest secret fishing sweet spots and give you the maps you need. For those who want to bring their own boats, Big Timber Lodge has gas and oil, a concrete boat ramp and lots of dock space.